Hertz Arena to receive world class upgrades for 2019-20 Everblades season
State-of-the-art videoboard, brand-new sound system among upgrades slated for install
ESTERO, Fla. — David Hoffmann, the new owner of Hertz Arena and the Florida Everblades, announced today that Southwest Florida's premier sports and entertainment venue is set to undergo a series of upgrades for the 2019-20 season.
Hertz Arena's new additions are highlighted by a state-of-the-art center-hung video board, two auxiliary LED displays, a brand-new sound system, and luxury suite renovations. Visua Corporation will be handling all the audio and visual renovations.
Following the completion of the project, Hertz Arena will boast more than 2.3 million display pixels and an A/V system that can be used for several sports and other events, including WWE, PBR, the Gulf Coast Showcase and Arena football.
"We're thrilled at the revitalization plans for Hertz Arena for the upcoming 2019-20 season," said Craig Brush, the General Manager and President for Hertz Arena and the Everblades. "These upgrades allow us to provide Southwest Florida with world-class sports and entertainment experiences."
The centerpiece of the renovations spearheaded by the new owner of Hertz Arena and the Everblades, the Hoffmann Family of Companies, is a four-sided, center-hung video board. The center-hung videoboard features a full high-definition display on each of the four sides and a bottom LED ring.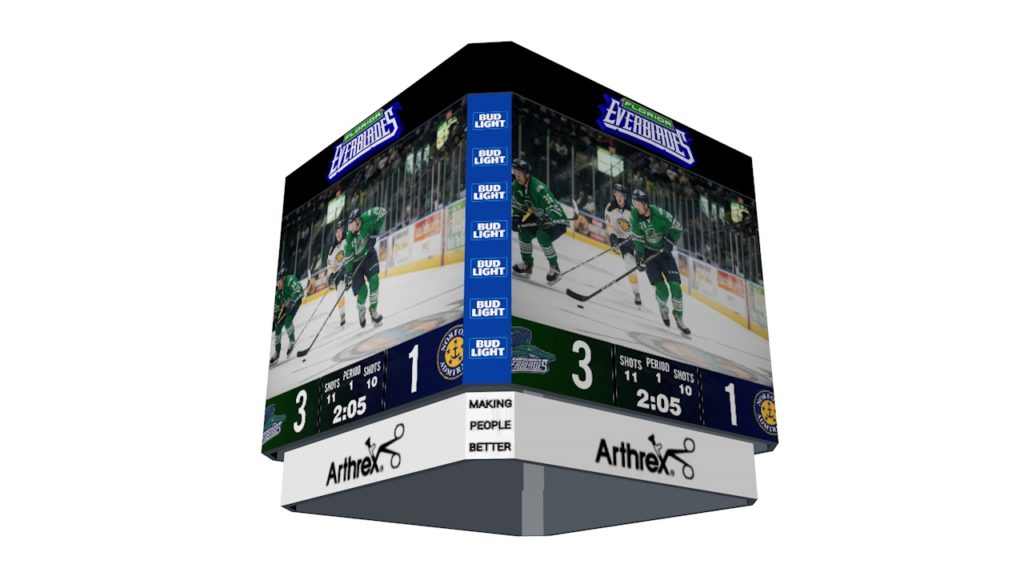 In addition to the center-hung video board, there are two other key components to the display upgrades at Hertz Arena. Two LED video displays will replace the current static auxiliary scoreboards above Section 114 and Section 104. All 16 of the current static vomitory signs, which are the signs located above the entrance to each section, will be replaced by full LED displays.
Along with the display additions, Hertz Arena will also receive a brand-new, state-of-the-art audio system that will involve the installation of new speakers, subwoofers, amplifiers and microphones.
To complement the overhauls to the arena's video and audio systems, a brand new production room will be installed along with four new full HD cameras, including two with wireless abilities, and three PTZ (pan-tilt-zoom) cameras — one above each goal for video replay and one in the center-hung video board.
Aesthetic facelifts to the building will include updates to Hertz Arena's 26 luxury suites and a landscape beautification plan for the exterior of the arena.
About Visua Visua is a nationally trusted source for helping organizations achieve their audio and video technology goals. Specializing in LED displays, audio systems, video control room equipment,
digital signage and venue audio/video technology, Visua focuses on providing a true single-source turnkey solution for their clients. Through its team of industry experts, partnerships with the longest and most established manufacturing companies in the world, experience in audio/video design of some of the most notable venues in North America, and single-source product set, Visua offers organizations an affordable and high-quality solution. Find more information about how Visua is innovating and integrating all-inclusive audio/video solutions at www.VisuaCorp.com.