In line with the best practices at major entertainment venues, Hertz Arena will implement new security measures, including walk-through metal detectors at all entry gates, and restrictions on the size and type of bag that may be carried into the Arena for all events effective January 1, 2019. These security measures will not only provide a safer environment for patrons attending the event, but will significantly expedite fan entry into the arena.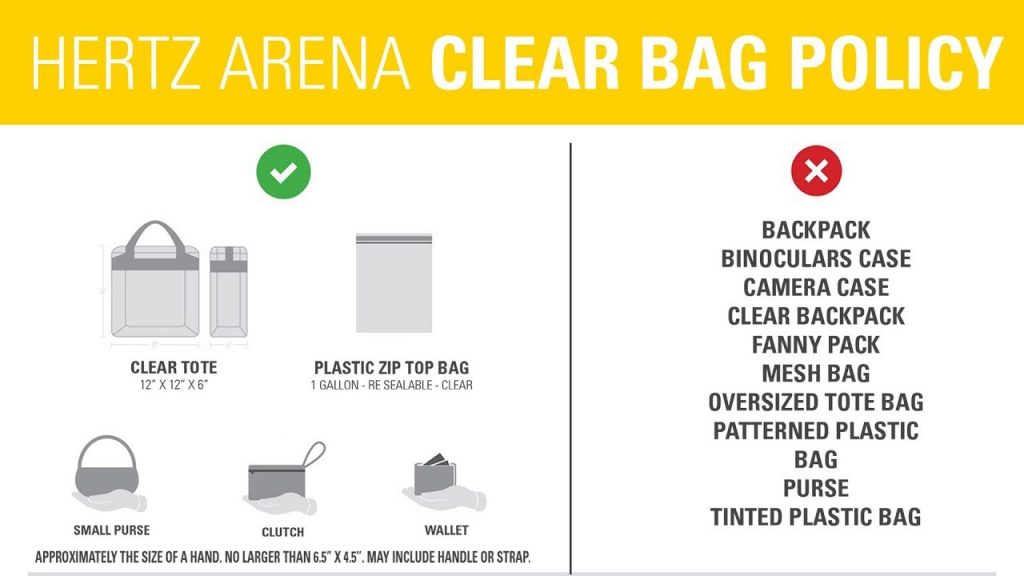 Fans are encouraged to enter the Arena early, as metal detectors (magnetometers) will be added to the entry process for all patrons. Fans will not be required to empty their pockets, or remove anything prior to passing through the magnetometer. In order to promote early entrance to the Arena, gates/doors will open one hour prior to puck drop for all hockey games, and 90 minutes prior to the start of most other events.
Fans are encouraged not to bring bags into the Arena. This would include backpacks, purses, briefcases, duffle bags, coolers, etc. Express Lines will be setup at each entrance for fans attending the event without any bags.
Those fans choosing to bring a bag to the Arena will be able to bring in the following:
Bags that are clear plastic, vinyl or PVC and do not exceed 12" x 6" x 12".
One-gallon clear plastic freezer bag (Ziploc bag of similar).
Small clutch bags, with or without a handle or strap and does not exceed 4.5" x 6.5".
Diaper bags (with child) after inspection.
An exception will be made for medically necessary items that cannot fit into a clear bag, after proper inspection.
Fans will be asked to return non-approved bags or other prohibited items to their vehicle prior to Arena entry. There is no check-in location for prohibited bags or items at the Arena.
All media representatives with necessary bags and equipment must enter the Arena at the media entrance to have each item inspected and tagged prior to entering the Arena.
Approved clear bags are available for purchase from the Hertz Arena Pro Shop, located at the Hertz #1 Club entrance to the Arena. Fans are reminded that a standard, one-gallon clear Ziploc-style storage bag is approved. Fans may also bring appropriately sized clear tote bags that they have previously obtained at other venues.
Additionally, Hertz Arena actively promotes and utilizes the "See Something, Say Something" campaign for its guests and employees. "See Something, Say Something" is a national campaign that is a simple and effective program to engage the public and key frontline employees to identify and report indicators of terrorism, crime and other threats to the proper law enforcement authorities. Hertz Arena respects the privacy of its guests and the enhanced security measures will only be used to prevent dangerous and prohibited items from entering the venue. For a full list of prohibited items, please visit www.HertzArena.com.
View Our Video Demonstration